About Community Acupuncture
Our Community Clinics are not being offered during the COVID19 Pandemic and will return in the future
Experience group setting acupuncture in our sanctuary garden or curtained enclaves. Come by yourself, or with your friends.
Appointments are booked in advance for community clinic times by contacting us by phone or email. In community acupuncture, it is primarily your constitutional imbalance that is addressed, and treatments typically involve a standardized combination of 4-12 points on the arms, legs, and sometimes ears. These simple protocol are some of the best time-tested and scientifically studied points to support your health, and can be tailored over time to meet your individual needs.
The unique advantages of community acupuncture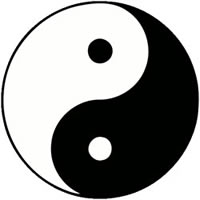 We offer community acupuncture as one way we can help you achieve your optimal health. The practice of community acupuncture is growing in the west, and represents an ancient tradition rediscovered!
Listed below are some of the huge advantages of community acupuncture:
1. More affordable:
Group acupuncture is about making healthcare more affordable for all. The fee is $40 per visit (Discounts can be given for prepaid packages).
It costs less than private sessions because each acupuncturist can treat and oversee more than one patient at once in the same space.
2. Increased frequency of treatments possible:
Community acupuncture has been practiced in China for thousands of years! Normally patients are treated daily or every other day in large, assembly-line fashion (we scale it down a bit!). These regular and very affordable systems allow people to get the greatest effect in aiding the body's healing process. Acupuncture treatments are cumulative, building on each other, so frequent treatments in the beginning is important.
Scientific evidence is growing to show that regular acupuncture is a cost-effective way to treat problems such as back pain, fibromyalgia, headaches, PMS, and infertility (see references at the bottom). Acupuncture is a process-oriented therapy where it is better to do more than less. Here, a patient's awareness and ability to adapt to the specific factors that affect his or her imbalances and health, emerge over time between treatments.
Traditionally the treatments are spaced further apart as progress occurs to facilitate the healing process and bring further balance to the body. The infrequent manner in which acupuncture is practiced in western settings is a consequence of the high cost of private care, and also reflects our focus on symptom treatment as opposed to prevention and optimal health.
3. Extending your healthcare budget:
Some people prefer a full, private session so they can have a 1 on 1, private time with the therapist, a more thorough assessment that a full hour together affords, or an unrestricted access to treat the whole body on a treatment table. But it is very difficult for some to sustain the cost of these private sessions. For them, community acupuncture can offer a cost effective way to extend their healthcare budget substantially.
4. Group healing experience:
Another benefit involves the healing experience within a group setting. Patients and researchers alike have observed the enhanced healing effect of a group. Perhaps more today than ever before, the idea of community is threatened, and many feel isolated and alone in facing their challenges. Even with people with different problems, there is an undeniable power seeking balance and health together.
References:
1. Zheng, H. et al., Manage Migraine with Acupuncture: A Review of Acupuncture Protocols in Randomized Controlled Trials. The American Journal of Chinese Medicine, 2010, Vol. 38, No. 4, 639–650.
2. Harris, R.E. et al., Treatment of Fibromyalgia with Formula Acupuncture: Investigation of Needle Placement, Needle Stimulation, and Treatment Frequency. The Journal of Alternative and Complementary Medicine, 2005, Volume 11, Number 4, pp. 663–671
3. Yuan, J. et al., Treatment regimens of acupuncture for low back pain—–A systematic review. Complementary Therapies in Medicine, 2008,16, 295—304
4. Witt, C.M. et al., Acupuncture in patiens with dysmenorrhea: a randomized study on clinical effectiveness and cost-effectiveness in usual care. American Journal of Obstetrics and Gynecology, 2008, 166e1-8.
Booking an community acupuncture appointment, how to prepare, and what to expect
Booking your appointment
You can book your appointment by contacting us by phone or email. You need to arrive about 15 minutes ahead of time if it is your first time with us, to leave extra time to fill out an intake form. If you are a returning patient, then come 5-10 minutes early to pay, go to the washroom, get a drink, and be ready when your acupuncturist comes for you. We require 24 hours cancellation notice if you decide you cannot show up to your scheduled appointment (read the policy here).
Before your treatment
Wear loose, comfortable clothes that you can pull up so the acupuncturist can access the lower leg and forearm. Eat something in the few hours before your treatment and be well hydrated. Part of the diagnosis involves looking at your tongue so if you usually brush your tongue, try to skip it the day of your treatment.
When you arrive
Leave shoes under the bench in the hallway outside the clinic, hang up your coat in the reception area, turn off your cell phone, and visit the restroom if you need to. You will be asked to pay before you are treated, and fill out any necessary paper work. On your first vist, you fill out an intake form that asks for medical information (medical history, medications, physician name, etc), and all your contact information, so bring this information with you if you don't know it off the top of your head.A staff member will take your payment before your treatment. The correct change in cash is best for efficiency, but we do accept debit or credit card too. We can provide you with a receipt for medical insurance purposes upon request. When you're finished checking in, as you wait you can enjoy our library. When it is your turn, you'll be asked to find a recliner chair in one of the rooms at the back of the clinic. You'll be asked to remove your socks, and other personal items may be placed in a basket on the floor next to your chair.
The treatment
This is the opportunity for your acupuncturist to meet you and discuss your health. We'd like to know your health history and talk about your current condition. The intake form can be downloaded from this website here. It's a good idea to fill it out ahead of time so you can take your time with it. It covers many aspects of your physical, mental and emotional health. You'll be asked to stick out your tongue and we'll check your pulse. We'll determine a treatment plan and you will be treated the same day of the consultation.Once the needles are placed, many people relax or fall asleep. The needles usually stay in for 30-45 minutes and your time from entering the clinic to leaving lasts about 1 hour. If you need to leave sooner just let us know ahead of time. Your acupuncturist will be in visual contact with you in our space. Just give us a look that you are done, we will be right over to remove the needles.
Can I get ear acupuncture or ear seeds with community acupuncture?
We welcome patients who prefer or would like to experience ear acupuncture alone, however, we suggest you let the acupuncturist pick the best points from your whole body based on your constitutional assessment that we do on your first treatment.
We do offer a specific ear seed therapy when the community clinics are operating. This is the only time you can schedule an Ear Seed session by itself.
Auriculotherapy involves the stimulation of the "auricle" of the external ear for the treatment of health conditions in other parts of the body. It applies the principles of acupuncture to specific points on the ear, and can be done with less cost without the need for full treatment tables or private sessions. Read more…
What is AcuYoga?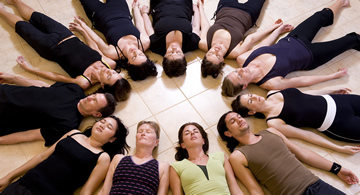 AcuYoga is a special type of community acupuncture that we do by scheduled workshop. It is the practise of self-administering acupressure on specific points on the body while engaged in a yin-yoga sequence. The Acupuncture Turning Point was the first to introduce AcuYoga to Edmonton in 2009. Not only did we showcase the idea, but we took it a little further by offering the option to receive a few carefully chosen needles from a registered acupuncturist during a body awareness scan (savasana) exercise at the end of the practice to facilitate and deepen the participants' meditative focus!
The idea to include needle acupuncture came from our observation of patients during acupuncture sessions. We notice that many of our patients become profoundly quiet and relaxed when needles are inserted at classic points intended to alleviate pain, or "move stagnant Qi", in oriental medicine terminology. "What if we used these points during a mindfulness exercise?" Gord Grant of The Acupuncture Turning Point wondered. Well, we tried it, and liked it so much we are bringing the idea back now in keeping with our integrated community acupuncture focus. Watch our newsletters and website for AcuYoga updates and events! (sign up for our newsletter on the bottom left of our webpages).