We have just moved as of July 3 to a new location, not far away on the south side. It on the second floor of a black medical building on the corner of 109 street and 76 Avenue – our address is suite #203-7609 109 Street (google maps location link here). There is free parking south of 76 Ave in the Cavalry Lutheran Church parking lot, and free seasonal parking along 108 St, and free residential parking on 75 Ave. There is also paid underground parking at the building, which is $4/hour.
We welcome back all our returning clients, and look forward to serving new clients in the Edmonton region in our new facility.   We anticipate working with the other medical professionals in the building and collaborating with other healthcare therapists in Edmonton to foster an exceptional team to help our clients heal and thrive.
Gord has not left his plants behind!  He made a living wall and brought the big ficus plant to the new space too.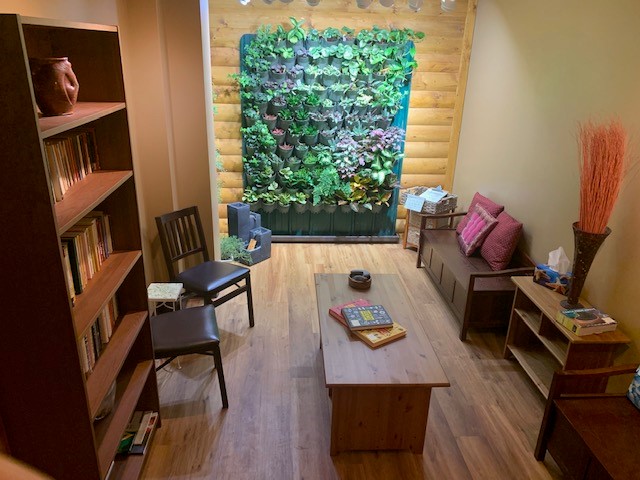 We have a welcoming reception where you can still have a tea with Gord's bees' honey!
The clinic was designed to meet all codes for a medical facility, and we have designed the clinic with an aesthetic and state of the art features to make it relaxing, comfortable, energy efficient, and functional for the therapists and clients alike!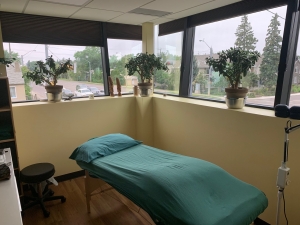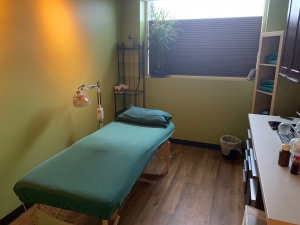 Contact us if you have any questions; 780-437-7723 or go to our contact page.