Exercise online together [on your own at home]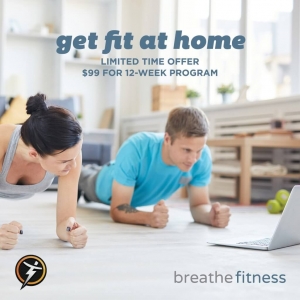 Guest Blog from Breathe Fitness – our team network partner https://breathe-fitness.ca/
We are currently experiencing history in the making.  As the COVID-19 pandemic takes a hold on a global scale, here in Canada, we're experiencing unprecedented measures taken by the federal, provincial and municipal governments to help mitigate (or, at least, slow down) the spread of this novel virus.
Over the past couple of weeks, we have seen conferences and events with large gatherings cancelled, schools have closed, recreation centres and libraries are closed indefinitely, people travelling abroad have been advised to urgently come home as the border tightens up and insurance policies become void, and many businesses are completely shutting their doors or forcing their employees to work from home.  We have been told to "socially distance" ourselves, a new expression that has now become a part of everyone's basic terminology.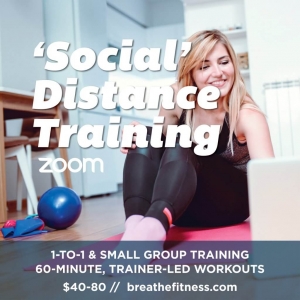 All of these measures are being taken in the hope we can save lives by slowing down the transmission of the virus; therefore, not overwhelming the health care system all in one fell swoop.  Everyone is being asked to do their part.  This is a group effort.
Online-ONLY Fitness Training