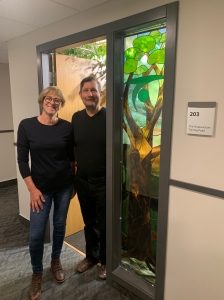 My name is Patti Lindstrand and stained glass is my creative outlet. Stained glass has a history that extends thousands of years and for the last twenty years, has become my passion. Throughout this time, I have dedicated countless hours to learning new techniques, perfecting and applying them to a variety of projects. In hopes of sharing my passion with others, I have developed a program and instructed students in a local high school. Watching these students and their fearlessness in the creative process is inspiring and truly amazing. In addition to this, 15 years ago I fully renovated and restored a local farmhouse into a Stained Glass Studio and home for Glass Reflections. This studio has provided a location where I have taught and worked alongside many talented individuals, fostered a learning community and shared in the love of creating. This studio has provided a safe space to share in the journey of life, building lifelong friendships and a support system that has become invaluable.

My true love for stained glass is creating commissions. Meeting with clients, I listen to their stories which provides me a gateway into their lives, and in turn, these interactions allow me to interpret, design, and create these visions in glass. Earning their trust to create these visions is a privilege that I hold close to my heart.
Collaborating with Gord was a truly special experience. Hearing his story and the evolution of ATP allowed me to gain insight and appreciation for his passion of nature, healing and balance. This appreciation is immediately evident walking into ATP as you are transformed by the relaxing, supportive atmosphere. I felt the importance of creating a piece that complimented this emotional experience. Capturing Gord's vision of the timelessness of nature with its parallel to the human experience was both challenging and rewarding. The viewer's interpretation of stained glass changes with the intensity and direction of light, therefore the time of day, viewing position and even state of mind alter a viewer's perception. With this in mind, the project was drawn again and again until each piece flowed together smoothly. Each piece of glass was carefully selected forming different colour and texture combinations, each adding to the depth of the story.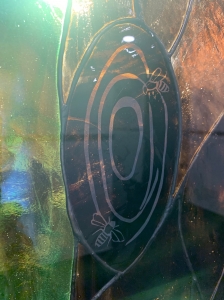 Recently I came across Jerzy Kosinski's motto and was struck by the timing of the completion of Gord's piece. "The principle of art is to pause, not bypass. The principles of true art is not to portray, but to evoke. This requires a moment of pause–a contract with yourself through the object you look at or the page you read. In that moment of pause, I think life expands. And really the purpose of art–for me, fiction–is to alert, to indicate to stop, to say: Make certain that when you rush through you will not miss the moment which you might have had, or might still have. That is the moment of finding something which you have not known about yourself, or your environment, about others and about life.
Thanks again Gord for your business, I know u will see us again for your expertise .   Patti