From massage therapist, to paramedic, and now acupuncturist!
About Michelle
Michelle always knew she would be in health care.  Her life long journey has understood the power of touch; a hand on the shoulder, a pat on the back, a hug to help soothe, a listening ear, or simply really being present when someone is in need.  Now, in these times of social distancing, Michelle feels her work is especially more important for mind and body alike than ever before.
Michelle's beginnings in massage therapy:
In 1999 Michelle enrolled in the massage therapy program a Grant MacEwan.  A former figure skater turned rugby player, she focused on sport injury to improve recovery time and for injury prevention. Later, she learned the other benefits of massage like for for decreasing stress, improving sleep and digestions.  Michelle has taken many continuing education courses to expand her technical abilities, such as myofacial release and cupping.  She continues to this day as a massage therapist (RMT 2200hr certification), and over 20 years has developed skillful insight and an effective style that helps people heal.
Michelle becomes a paramedic.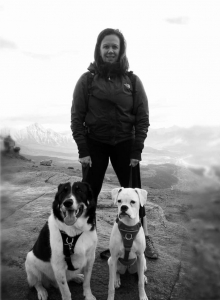 In 2003 Michelle expanded her repertoire and challenged herself with training in the Emergency Medical System. By 2005 she was working as a Primary Care Paramedic and then graduated from the Advance Care Paramedic program in 2010. Being in EMS was a calling from her father who served in the Canadian Armed Forces in different medical roles. It is in  Michelle's blood it seems; there is a long line of both military service and nurses in her family.
Paramedicine has taught Michelle a lot about people and more so about herself. In this profession, she is challenged every day, to be prepared to face the unknown working in a very dynamic environment, always being prepared for the worst but hopeful for the best. Often many hours of waiting or idleness are punctuated by life or death decisions. As a Paramedic she has learned to be centred, and to calm herself amongst panic and fear; to be compassionate in another's time of need. Michelle has discovered that indeed she can take on more than she thought she could. To remain human, be present enough to connect with the patient, their family and her coworkers.
Michelle becomes a registered acupuncturist.
In 2013 Michelle began part time studies in the Acupuncture program at MacEwan University and recently graduated and is now a fully registered acupuncturists with the College and Association of Acupuncturists of Alberta in 2021.   During her years as a paramedic Michelle has been acutely aware of the lists of medications that people are prescribed.  How some drugs worked on one but not the other, how different people aged and how their bodies behaved differently in disease.  This left her wondering about different ways to view heath, the body in disease and how it responds.  In her own life too, she saw a need for preventative medicine and ways that the western medical system sometimes cannot do everything to remedy a symptom or health issue.
Michelle's first experience with acupuncture was, as with massage, for a sports injury.  Later she discovered first hand its impact on the stress and emotional dimensions that can affect us physiologically (the mind body non-duality that medical science now validates!); things like sleep, fatigue, emotional stability.  She was intrigued by how eastern medicine like other holistic frameworks viewed the whole body, and saw the nature and cause of disease in a more complex and preventative way that each of us has a lot of influence over.  With her science background she realized that this was closely aligned with what we know in biomedicine; how the syndromes and patterns of disease mostly had predisposing conditions that would be familiar to doctors in western medicine.
Now as a practicing acupuncturist, Michelle finds a lot of meaning helping people with musculoskeletal issues, neurological diseases and supporting people emotionally, whether it is depression or insomnia or PTSD. With her knowledge of disease from paramedicine, she really sees the connection and is fascinated by how the individual ways each person expresses a disease is the focus and strength of oriental medicine. Acupuncturists focus on a client's individual complexity and a disease's root source of the problem and the solution: we are supporting how the body can inherently heal itself.  This is a very necessary complement to the power of western medicine which has a reactive focus more specifically on symptoms and using drugs to compensate for a problem.
Michelle enjoys working beside knowledgeable and seasoned practitioners in all fields, meeting and learning from new clients and challenges, and following her passions.
Please phone our clinic at 780-437-7723 if you would like to schedule an acupuncture session specifically with Michelle.