Corrective Exercise and Assessment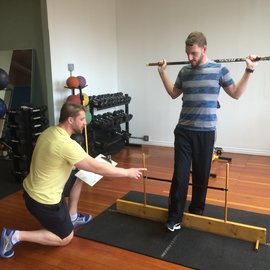 The Acupuncture Turning Point is coordinating services with Len and Nicole of Breathe Fitness. The integration of exercise into our lives is so critical for our well-being, regardless of it being for optimization of our health, or for injury prevention or rehabilitation.  Indeed, at its best, improving our strength, flexibility, agility and balance are contributions to the shear joy and privilege of moving confidently and productively in our bodies.
To this end, the owners of Breathe Fitness have implemented a functional movement screen which is performed to discover body movement imbalances.  The assessment is documented and can be shared with the team at The Acupuncture Turning Point to promote better understanding and direction in your acupuncture and massage treatments.
Based on the assessment, as highly qualified and certified fitness trainers, we create, demonstrate, and teach you a custom workout designed to help correct your particular imbalances & prevent future injury.  This becomes a cornerstone of activity in improving your overall functional ability, no matter what your age or athletic endeavours. This 60-minute session becomes the first stage toward a potentially progressive series of changes over time as you train on your own.  Ideally, you should be reassessed from time to time.  The first reassessment is part of the package to determine your functional progress for both your own information and for the ATP team as well – therapeutically speaking.  While the reassessment is part of the package, another set of exercises to match your new stage of development would come at an extra cost – the choice is up to you.
The cost is $168 +gst which includes a thorough and documented functional movement screen, same day exercise training, and then one reassessment within 4-6 weeks to determine progress or change.  The custom exercises will be accompanied by in-depth instructions so you can perform them at home or at a gym. Having personalized pointers to cue proper, efficient movement patterns will help you to correct the particular issues you were having during the training session.
Book a corrective exercise assessment plus-exercise session with Breathe Fitness. Phone them at (780) 432-2293.  They are located on the second floor of  10309 Whyte Ave.